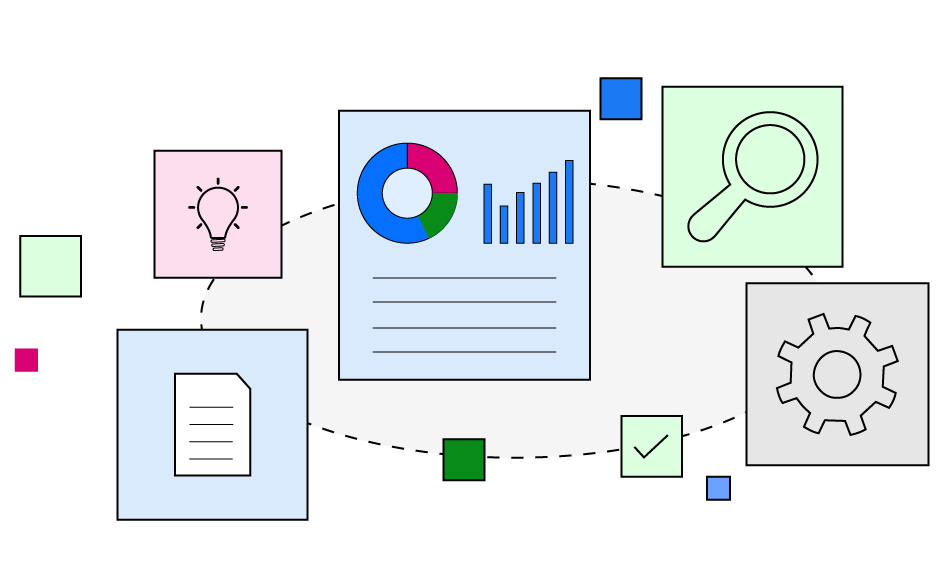 Our services team excels at skillfully handling complex service engagements, transforming even the most challenging projects into successful outcomes. Our flexible sandbox, packed with a wide range of third-party tools, replicates complex customer landscapes, illustrating the seamless incorporation of IBM software into your current infrastructure and the overall value it provides. nFolks removes sales barriers with our MVP offering, while addressing customer's complex environments and legacy systems. We specialize in moving data out of legacy systems, sunsetting and consolidating IT environments, while showcasing the value of IBM software with 3rd party SW already deployed. We have demonstrated success in migrating difficult DataStage legacy assets with our services offering, working in tandem with IBM Expert Labs. Customer confidence in the migration or competitive replacement is bolstered with our software tools and automation approach.
1.

Modernization: IGC to CP4D IBM Knowledge Catalog Conversion
nFolks Services specializes in helping organizations migrate their existing data governance frameworks to IBM Cloud Pak for Data (CP4D) by utilizing IBM Knowledge Catalog (IBM Knowledge Catalog). We employ a systematic approach to manage data throughout its lifecycle, from acquisition to disposal, which is especially critical as businesses rely increasingly on data for digital transformation.
Expert Assessment: nFolks' data governance specialists evaluate your current setup and identify automation opportunities tailored to your specific use case for a streamlined migration to CP4D.
Automated Migration: The service facilitates the export of all supported assets from IBM InfoSphere Information Server (IGC) and imports them to IBM Knowledge Catalog. Automation scripts and commands are created to quicken this process.
Enhanced Data Management: Sound data governance is vital for management, marketing, sales, supply chain, and compliance officers. nFolks ensures that data is accurate, timely, and handled according to internal and external mandates, aiding strategic business decisions.
Skilled Team: nFolks boasts a team of certified data engineers, solution architects, platform administrators, and data scientists adept in migrating and optimizing data governance frameworks for IBM Knowledge Catalog on CP4D.
Customized Solutions: Beyond mere migration, nFolks ensures that your governance framework is tailored to perform optimally on IBM Knowledge Catalog.
Why Choose nFolks: Their expertise in product engineering, coupled with a highly experienced team, offers custom automations that reduce manual effort, and their extensive experience in data analytics and AI positions them as an ideal partner for modernizing data governance on CP4D.
Partnering with nFolks can help organizations to quickly adapt to IBM Knowledge Catalog on CP4D, ensuring data governance frameworks are efficient and effective.
2.

Modernization: DataStage Legacy to CP4D Nextgen
Modernizing DataStage is crucial for businesses dealing with large volumes of data. nFolks services offer specialized expertise in Data Integration modernization, which streamlines the process of transitioning to IBM Cloud Pak for Data (CP4D). The benefits include:
Assessment and Customization: nFolks' Data Integration specialists evaluate your existing ETL code and tailor their services, such as DataDios and SmartDiff, to meet your specific requirements for a seamless modernization to CP4D.
Comprehensive Support: Their support covers server-to-parallel conversions and the creation of necessary components for code execution on CP4D, ensuring a smooth modernization process.
Scalability and Agility: Moving to CP4D not only enhances scalability but also makes your system more agile. This allows you to utilize a wide range of cloud-based technologies and services effectively.
Cost-Effective Infrastructure Improvement: Modernization with nFolks is an efficient way to upgrade your infrastructure without incurring excessive costs, providing your organization with a competitive advantage.
Expert Team: nFolks boasts a proficient team of data engineers, solution architects, platform administrators, and data scientists who facilitate swift adaptation to DataStage NextGen.
Proprietary Tools for Automation: The use of nFolks' proprietary tools, including DataDios, reduces the necessity of rewriting code and enables the creation of custom automation, expediting the modernization process.
Acknowledged Expertise: nFolks' expertise in DataStage space and knowledge of IBM tools has been endorsed by customers, showcasing their competency in data transformation and load.
By partnering with nFolks for DataStage modernization, your organization can migrate from legacy systems to a robust, cloud-native solution efficiently, while ensuring optimal performance on CP4D.
3.

Workload Assessment for Watsonx.data Services
When it comes to harnessing the capabilities of Watsonx.data, nFolks emerges as the top choice. Our dedicated team brings an unparalleled level of expertise, founded on extensive knowledge and years of experience in Watsonx.data. We not only possess a comprehensive understanding of the platform's capabilities but also utilize this knowledge to create customized solutions that seamlessly align with your specific needs.

Our outstanding track record speaks volumes, demonstrating our ability to successfully execute Watsonx.data projects for a diverse range of clients. At nFolks, we prioritize the growth of your organization by offering scalable solutions that adapt to your evolving requirements. Security is of utmost importance in everything we undertake, and we have robust measures in place to safeguard your data.

nFolks' Distinctive Qualities:
Data Expertise: Our team excels in Watsonx.data, backed by deep knowledge and experience.
Comprehensive Understanding of Watsonx.data: We possess a thorough grasp of Watsonx.data's full range of capabilities.
Proven Track Record: We have a demonstrated track record of successfully executing Watsonx.data projects for a diverse clientele.
Tailored Solutions: Customization is at the core of our approach; we tailor Watsonx.data solutions to match each client's unique requirements.
Effortless Scalability: Our solutions seamlessly scale to accommodate your organization's growth.
Prioritizing Data Security: Ensuring the security of your data is our top priority, with robust measures in place to protect your information.
Streamlined Efficiency: Our focus on efficiency leads to swift and effective Watsonx.data deployments.
Cost-Efficiency: We deliver cost-effective Watsonx.data solutions without compromising on quality.
Client-Centric Focus: Our commitment is to provide exceptional client experiences and ensure complete satisfaction.
Implementing Databand can bring about enhancements in data pipeline management, elevated data quality, and improved operational efficiency.

As your trusted ally in Databand deployments, we possess an in-depth understanding of Databand's capabilities. Our primary goal is to expedite your data-driven initiatives, enabling you to concentrate on extracting meaningful insights from your data. Empowered by our dedicated team of Databand experts, we equip your organization to ensure the secure, efficient, and high-performance flow of data for your business analytics and strategic decision-making.

nFolks' Distinctive Qualities:
Expertise: nFolks boasts a team of seasoned specialists with extensive knowledge in databand deployment.
Comprehensive Understanding of Databand: Our team possesses a profound understanding of Databand's capabilities.
Proven Track Record: Our track record speaks to our successful data deployment projects for numerous satisfied clients.
Customized Solutions: We tailor our data deployment solutions to address the distinct needs of each client.
Scalability: nFolks offers flexible data deployment solutions that can grow alongside your organization.
Data Security: We prioritize the security of your data and implement robust measures to safeguard your information.
Client-Centered Approach: nFolks is committed to delivering outstanding client experiences and ensuring your satisfaction.
nFolks introduces its Comprehensive Health Check Offering, an essential service for organizations seeking to optimize their IT infrastructure. In an ever-changing technological landscape, it's vital to maintain peak performance, security, and scalability in your IT environment. nFolks' offering extends beyond regular maintenance, employing thorough analysis and evaluations.

Key components of the service include:
Infrastructure Assessment: Ensures hardware and software components, such as servers, storage systems, and networking devices, are operating optimally and are properly configured.
Software Configuration Review: Evaluates the software components' installation, patch levels, and configurations for optimum performance and security.
Security and Compliance Review: Includes vulnerability scanning and compliance evaluations, with recommendations to enhance security measures and adhere to industry standards.
Performance Analysis and Optimization: Monitors key metrics, identifies bottlenecks and inefficiencies, and provides recommendations for configuration optimization and performance enhancement.
Data Protection and Backup Strategy: Assesses data protection mechanisms, backup schedules, and disaster recovery plans, offering insights for improvement and risk mitigation.
Scalability and Capacity Planning: Analyses the infrastructure's ability to handle increased workloads and growth, ensuring effective scaling without compromising performance.
Documentation and Reporting: Offers detailed reports and documentation giving a complete overview of the current state of the IT environment and actionable insights.
This streamlined, comprehensive health check empowers organizations to achieve a highly tuned and robust IT environment. With nFolks' expertise, make informed decisions, allocate resources effectively, and align your IT strategies with business objectives.
6. Installation & Upgrade Offering
nFolks offers an exceptional service for CP4D (Cloud Pak for Data) Installation and Upgrades, designed to facilitate organizations in harnessing the power of data analytics. With CP4D being a potent platform for deriving invaluable insights from data, nFolks ensures a seamless and customized installation process tailored to meet specific business needs.
What nFolks provides:
Expert Consultation: nFolks initiates by understanding clients' business necessities and data requirements, leading to the design of a bespoke solution exploiting the full potential of CP4D.
Streamlined Installation and Configuration: The adept team at nFolks takes charge of the installation and configuration, which includes hardware and software setup and integration with clients' existing systems.
Comprehensive Training and Support: Upon installation, nFolks extends exhaustive training to equip the client's staff in efficiently utilizing CP4D, encompassing data management, analytics, machine learning, and more.
Ongoing Maintenance and Upgrades: nFolks provides sustained support including regular updates, performance monitoring, and troubleshooting services, adapting to the evolving needs of businesses.
Wide Range of Installation Scenarios: nFolks supports installation on various cloud platforms such as IBM Cloud, AWS, Azure, and facilitates multi-tenancy support, integration of services, and migration from legacy environments.
Administration and Monitoring: Services include all-inclusive administration support for managing and monitoring OpenShift clusters, disaster recovery, and ensuring the optimal health of the CP4D deployment.
By availing nFolks' CP4D Installation and Upgrades services, organizations can rapidly adopt a data analytics platform, impeccably tailored and optimized for superior performance. The end-result is data-driven decision-making, granting a competitive edge in the industry. With nFolks' experienced team of engineers, architects, administrators, and data scientists, your organization is empowered to achieve its data goals efficiently.
7. Impact Analysis Report
Premium Technical Support Services by nFolks offer enhanced assistance and resources to tackle complex technical challenges within an organization's IT infrastructure. The service focuses on minimizing downtime, optimizing system performance, and ensuring seamless operations. Key features and benefits include:
Dedicated Support Engineers: Clients receive personalized attention from dedicated engineers who have extensive knowledge and experience with specific technologies. These engineers become familiar with the organization's environment, goals, and processes, ensuring targeted and effective support.
24/7 Technical Support: Premium support includes round-the-clock access to technical experts who are ready to address critical issues, offer guidance, and troubleshoot problems in the organization's IT infrastructure.
Priority Handling of Issues: Critical issues receive priority attention, ensuring faster response times and prompt resolution, which is crucial in minimizing the impact on business operations.
Proactive Monitoring and Health Checks: Regular monitoring of technology systems allows for early identification of potential issues. The service includes performance analyses, recommendations for optimization, and preventive maintenance to ensure systems are running efficiently.
Education & Training Services: Clients have the option to access education and training services at an additional cost. This empowers organizations to develop internal expertise and utilize technologies more effectively.
Performance Analysis and Optimization: Detailed analysis of the IT environment is conducted to optimize performance and address any potential issues proactively.
By investing in nFolks' Premium Technical Support Services, organizations can significantly enhance the reliability and performance of their critical technologies. This service offers peace of mind by ensuring that a skilled team is dedicated to the organization's success, capable of efficiently addressing technical challenges.
8. Premium Technical Support Services
This nFolks services offering supplements IBM technical support and Expertise Connect aims to provide additional resources, specialized expertise, and personalized assistance to help your organization maximize the value of your IBM solutions and address complex technical challenges. This type of service offering can include a wide range of support options, tailored to the organization's needs and goals. Key components of such a service offering may include:
Dedicated Technical Advisor: Assigns a dedicated technical advisor with in-depth knowledge of IBM products and technologies to the organization, acting as a single point of contact for technical support and guidance. The advisor can help with troubleshooting, best practices, and optimization strategies, ensuring a seamless and efficient experience.
Enhanced Support Response: Provides prioritized access to IBM technical support, ensuring faster response times and resolution for critical issues. This may include access to dedicated support channels, escalation paths, and priority queuing for support tickets.

Customized Training and Knowledge Transfer: Offers tailored training sessions, workshops, and knowledge transfer activities designed to help the organization's team members build their skills and expertise in IBM products and technologies. This can include hands-on training, webinars, or access to exclusive resources and documentation.

On-Site Support and Consulting: Provides access to on-site support and consulting services, with IBM experts visiting the organization's premises to address complex technical challenges, assist with system upgrades or migrations, or provide hands-on training and guidance
By leveraging a service offering that supplements IBM technical support and Expertise Connect, your organization can gain access to a higher level of personalized support and specialized expertise, helping you get the most out of your IBM investments and drive innovation, growth, and success.