DataDios cloud accelerator product suite automates and delivers, modernizing legacy environments to the CP4D Data Fabric Platform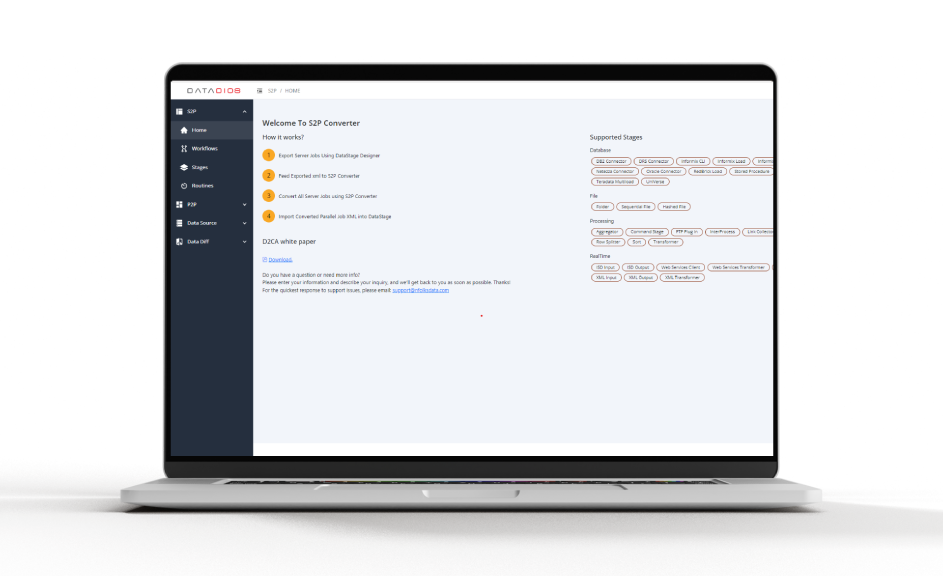 The nFolks DataDios solution eliminates sales barriers and customer concerns. Customer confidence in the migration or competitive replacement is bolstered with our software tools and automation approach. We have demonstrated success in migrating difficult Cloud Pak for Data and DataStage legacy assets with our product and services offering, working in tandem with IBM Expert Labs; DataDios has been integral to many successful Expert Labs engagements
DataDios Workload Assessment for Watsonx.data
Enhance your approach to selling Watsonx.data and accelerate your service offerings with the DataDios Workload Assessment. Utilizing nFolks' specialized DataDios software, we empower you to discover specific workloads tailored to your needs.
DataDios software streamlines the identification of workloads suitable for migration to Watsonx.data. By migrating high-cost workloads to Watsonx.data, you can deliver substantial cost savings and maximize return on investment for your clients.
Moreover, don't limit the use of DataDios software—our tool is a valuable asset for your service team when deploying Watsonx.data.
Kickstart your journey toward cost savings by transitioning selected workloads to Watsonx.data, leveraging the following benefits:
Conduct a comprehensive workload assessment to highlight potential operational expense reductions.
Seamlessly migrate your expensive workloads to Watsonx.data.
Gain insight through a detailed analysis of your current systems, predicting the potential efficiencies and cost savings attainable through the transition, and others.
SmartDiff showcases the differences with data, metadata and products enabled via a comprehensive dashboard validation view. With a balanced, multi-cloud strategy that encompasses a blend of  private, public, and hybrid cloud environments, you are better positioned  to solve traditional problems. That's where DataDios SmartDiff comes in – ensuring an easy, efficient and secure way to validate migrated data across private and public cloud platforms. Built on Root cause Analysis, Clustering and Data Transformation architecture, DataDios SmartDiff enables automated Data Validation Post Migrations, Cause analysis and Revealing the patterns. DataDios SmartDiff allows application of  data Transformation rule on data to eliminate the need to learn and play for multiple standalone tools.

We provide a single dashboard to perform data diff, metadata diff and products diff irrespective of: 
Source being on cloud or on-premise

SQL or No-SQL databases

File formats(xml, json, parquet, csv, datasets, hashed file and others)

Services and Products like IGC, IBM Knowledge Catalog, MDM, DataStage (Datasets/Hashed Files), Collibra and others

Cloud storages like AWS S3, Google Big bucket, Microsoft Azure storage, IBM storage and others

IBM OEM Partners MongoDB, EDB, Singlestore, Datastax and Cloudera
DataDios SmartDiff quickly and easily validates data and identifies issues and patterns for various data sources. With a low-cost, easy to use, and installed anywhere, you can complete your migration projects on time and  under budget.
DataDios Metadata Synchronization
Metadata Sync automates synchronization between multiple Governance products, between sources on cloud or on-prem, between different types of data sources and between any cloud asset, with automated validation and report generation. This  is a powerful feature in DataDios to help users verify if the Metadata in target is in sync with the source. Metadata Sync works with databases as well as with Data Governance services.
Metadata synchronization is crucial to database migrations projects and to keep governance systems in sync. Most governance tools are generally limited to export and import of Metadata.

Some of the salient features include:
Synchronization between multiple Governance products (Assets, Artifacts, Relationships and others) such as Collibra and IBM Knowledge Catalog or Apache Atlas and IBM Knowledge Catalog

Synchronization between sources being on cloud or on-premise

Synchronization between any two data sources such as Oracle to Snowflake or Teradata to AWS Redshift

Synchronization between cloud assets

Synchronize cloud assets (AWS, GCP) into IBM Knowledge Catalog and/or Atlas

Synchronization using any of the methods like full refresh and delta refresh

Historical synchronization view and generate version reports

Visualize incremental differences in metadata

Automated validation(diff) metadata between source and target
With DataDios Metadata Sync, you can easily migrate metadata and synchronize differences without the hassle of re importing data. It can identify and make the delta changes in target
Metadata Sync keeps a log of each synchronization update making it easier to track and review the updates made on any date time.
Manual rewrite of DataStage jobs and UV functions during migration or upgrade requires huge effort, Universe skills, longer project timeline, significant cost and risk. DataDios Server to Parallel (S2P) and Parallel to Parallel (P2P) automates this and makes it happen in an accelerated timeline.
DataDios S2P and P2P accelerates job conversion by running automated conversion workflows ensuring data integrity & quality. Automation provides significant savings on effort and cost. Manual rewriting of ETL programs requires huge effort, longer project timeline, significant cost and risk. The automation takes the guesswork away and significantly reduces the project time


Steps for an on-prem to cloud migration:
Download the current DataStage jobs from the legacy DataStage environment that is pointing to existing on-premises data sources.

Import the DataStage files into the DataDios® Cloud Accelerator application.

Now run the conversion. DataDios prepares the migration job files by replacing existing targets with the new target.
The benefits of this approach: 
Automated Assessment of the DataStage jobs for conversion and providing in-depth Insights

Automated conversion of jobs using web browser

Auto conversion of UV artifacts (server job, server routines & others) happens for at least 85%

Automated data validation to compare input and output jobs.

Automated conversion provides significant savings on effort and cost.